A look at Spotify's podcast journey in India
While podcasts still have a relatively tiny audience, Spotify has been betting big on the medium. Launched in 2008 in Sweden, Spotify hosts over 50 million music tracks and more than one million podcast titles on the platform. Spotify claims to be the world's largest music-streaming service with 300 million users and wants to transition to be the world's largest audio-streaming service.
In the last quarter, the company had about 70 new Spotify Originals with a number of them exclusive to the platform. According to the company's fourth-quarter financial report, the content hours streamed for podcasts increased by 200% year on year globally, and more than 16% of Spotify's global monthly active users listen to podcasts – up from 14% in Q3 2019.
Spotify in India
Spotify launched in India in February 2019 amongst homegrown leaders like Gaana and JioSaavn and competition from international services, including Apple Music and Amazon Music. In December that year, the audio-streaming company launched its first three local Spotify Originals podcasts.
Podcasts in India
After launching its first three Spotify Original podcasts in India last December, the audio streaming service launched an additional 12 podcasts earlier this year. Spotify produces its podcasts in conjunction with production houses such as Audiomatic, Oaktree, All Things Small, OffSpin, etc.
Additionally, Spotify has also added content from radio stations Radio City and Big FM as well as Aawaz.com, an Indian podcast and spoken-word audio network. Aawaz.com launched with a focus on Hindi language content and recently added the English catalog as well. It positions itself as an audio-on-demand network to reach a wider audience looking for non-linear Hindi content and stays away from the 'podcast' label calling the shows listed on the platform as, well, 'shows'. All of this content will be available exclusively on Spotify.
Spotify has shared that the company is keen to work with committed creators and production houses to bring relevant, local content for not only listeners in India, but also for the platform's millions of users across 78 other markets. The Spotify Original podcasts have listeners not just in India, but also in the US, the UK, Canada, and Australia, among other countries.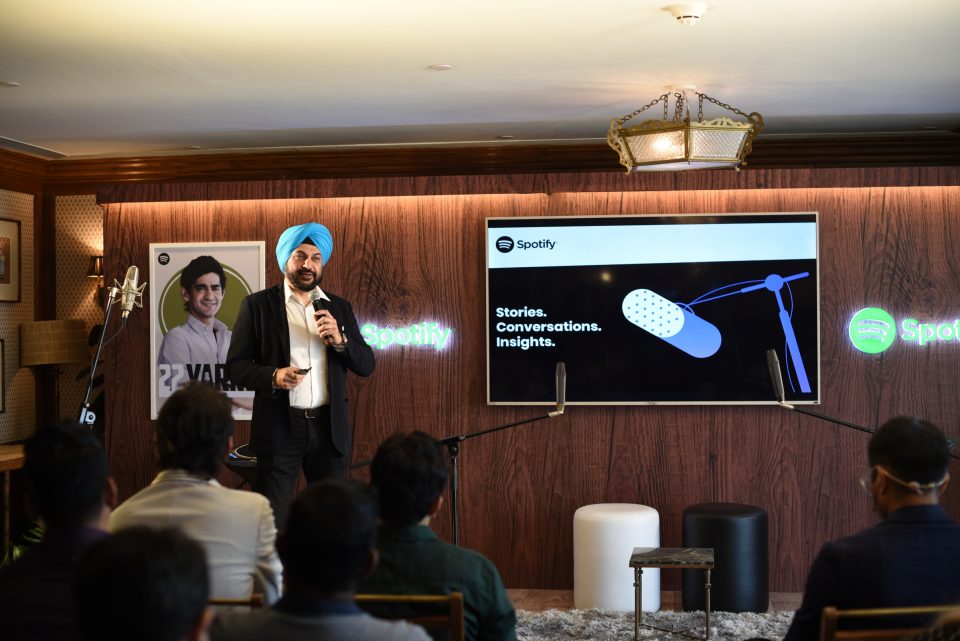 Team India
While Amarjit Singh Batra, formerly the CEO of OLX India for about a decade, leads Spotify's India business as Managing Director, the podcast division is led by Narayanan Nambudripad, popularly known by his nickname, Unni, in the business.
Unni joined Spotify right at its India launch in February 2019. Previously he was the Director of Original Content at JioSaavn, one of India's leading music-streaming services. Under Unni, JioSaavn developed its podcast vertical with shows featuring popular celebrities such as Neha Dhupia, Kalki Koechlin, Neelesh Mishra, et al. In podcasts, JioSaavn led the audio-streaming market in India (before Spotify launched) both in programming as well as the marketing push.
Additionally, Neha Mathews joined Spotify India in May as a Producer for podcasts. Neha was a podcast host and producer at Indian Express, one of India's premier mainstream media publications. Neha helmed the flagship daily news show as well as worked on marketing and distribution strategies to grow the Express Audio brand.
Summary
While 200+ episodes across local Spotify Originals are already live in India, the company already has several more original podcasts and subsequent seasons of successful podcasts lined up over the remaining year. Spotify also helps the creators and producers with global best practices and in increasing their operational and creative efficiencies.
As of now, the United States accounts for the largest share of podcast streams. However, China and India are emerging as the next biggest markets for podcasts in general. According to the Batra and Unni, Spotify will continue to analyze what content the users show an affinity to and work with more creators to bring relevant, local content for India and beyond.